우주항공 케이블에 대한 상세한 기술 자료를 제공합니다.
Accuclave, Thermocouples, B, G, K PFA, TE/D, TEX, TF
항공기 부품 접합 시 오토클레이브 온도 검증
열처리 중 구조적 부품의 온도 모니터링
챔버 내 온도 모니터링
열처리 중 엔진 파트에 대한 온도 모니터링
ISO9001 / ISO17025 / BAC5621 / IEC60584 / RoHS and REACH / ER(Exposed Run) / IEC 60332  / IEC 584 / EN60079-14 / ASTM E 207 / ASTM E 220 / ASTM E 230 / CSA-C22.2 No 239 / CSA-C22.2 No 230 / CSA-C22.2 No 210 / NEC Article 340 / NEC Article 501 / NEC Article 725 / NEC Article 727 / UL 13 / UL 758 / UL 1277 / UL 2250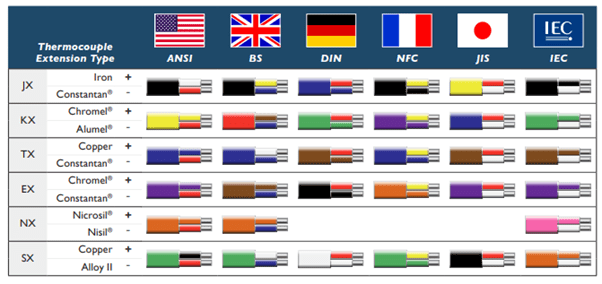 Our Patented Accuclave thermocouple. A connector plug molded-on our exclusive single extrusion FEP 200'C or PFA 260'C insulated thermocouple wire with an exposed welded junction. Accuclave Autoclave Thermocouple Assemblies come in two temperature ranges because some people run autoclaves below 200'c and some run slightly higher. Those that run at higher temperature might see FEP thermocouples short out on edges of the tool, especially if they are kinked or are not perfectly flat against the surface when 95-150PSI of pressure kicks in. To fix this, we created a higher temperature version with PFA insulation. Users who run at lower temperature still get benefit of cheaper product in FEP 200'C version, while users who need higher performance can opt for 260'C PFA version.
Application : Aerospace composites, autoclaves
Option : J type thermocouple or K type thermocouple calibration, custom lengths and customer types available
Reduce / Eliminate vacuum leaks
No stripping insulation at vacuum seal
No reversed polarity
No connector covers popping off onto part or floor
Reduced non-conformity reporting and QC tags
BAC5621 compliant, accepted during NADCAP audits
100% tested for quality
All AccuClave products come from a 300FT max certified spool @ 32, 250, 500'F
Autoclave Thermocouple Cable Extensions are used as a system with AccuClave to provide customer cost saving in form of rugged reusability. Rugged construction of stranded wire (for flexibility), braided fiberglass jacket, and clear fluoropolymer PFA outer jacket. Product has been tested in field to maintain accuracy up to 200 cure cycles. By going with AccuClave-X extension cables versus long thermocouple customers realize immediate payback due to reusability in just a few cure cycles.
Bridge the long runs between thermocouples and instrumentation or jack panels
Reusable: available in lengths of 10, 20 and 30 feet
Available configurations – male to female, male to male, female to female
Conforms to ASTM E230, IEC 584, ANSI MC 96.1 and BAC 5621
AccuConnect™ Assemblies are innovative, multi-circuit thermocouple extension cable harnesses that you use to improve cable connectivity in autoclave applications. AccuConnect can be supplied as 6, 12 & 24 cables terminated with a multi-pin connector on one end with free-floating, independent male or female connections at the opposite end. The AccuConnect design provides assured accuracy and long term use.
Reduces autoclave setup time by up to 90%
Reusable: Rated 200℉(400℃) @ ±2℉(1.1℃)
Cable ends: one has 6, 12 or 24 cables terminated with a multi-pin connector; the other free-floating cable end BAC 5621 compliance and ease of traceability for NADCAP audits
Available in Type J or Type K thermocouple assemblies
AccuFlex Assemblies are innovative, ow-profile, flat thermocouple cable assemblies. As a recent addition to the AccuClave autoclave pre-assembled thermocouple series, the design was inspired by the need for very small cross-section thermocouple wire required for the field repair of composites, such as repairing damaged aircraft flight surfaces.
Application : Field repair of damaged composites assemblies (aerospace, aircraft, automotive). Autoclave applications requiring a quick and easy seal between vacuum bag and instrumentation. Applications where thermocouple measurements require fitting through narrow spaces and openings yet require the low resistance advantage of larger gauge wire.
Low profile makes creating a seal between vacuum bag and instrumentatino quick and easy
Minimal mark-off – 4X thinner thant equivalent 28 gauge round cable
Ready to use assemblies save setup time, reduce downtime
B-Fiber (Syntheric Fiber)
Operating temperature to +500℉
Short term use 535℉
Polyamide fiber blend of Kevlar® and Nomex®
Good flame and chemical resistance
Best abrasion resistance of all fibrous materials
Operating temperature to +950℉
Short term use 1300℉
Excellent resistance to chmicals
Abrasion resistance, electrical strength, moisture resistance and handleability improve with top coating
Glass will not burn
Saturant may begin to burn off as low as 400℉